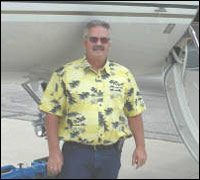 GEORGE E. PERRY (BUTCH)
Flight Instructor

George currently flies for several companies. He has taught at In-flight Review since 2001 in all the Piper Cheyenne series and King Air A, B, C, and A-200 and B-200 series. He has given dual in Shorts, Cessna 300, and 400 series. George has been FAR part 135 check airman for many companies.

George has been a Piper Corpac, demo pilot in all the Cheyenne's as well as worked for Lockheed Martin flying for NASA at Dryden Flight Research Center, Edwards Air Force Base in California.

George holds an ATP SMEL & Sea and Lear-Jet type rated. Commercial Pilot Glider, Balloon, Gold Seal Flight Instructor Airplane and Glider has given extensive aerobatic dual and has logged over 12,000 flight hours. He also holds an A&P as well as being Typed in the Falcon 50 and Falcon 900.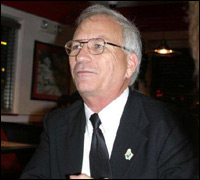 BILL BRUNTON
ATPCFIIMEI /Designated Examiner

Mr. Brunton has logged over 14,000 hours of total time, and has given over 7,000 hours of dual instruction in aircraft ranging from J3 Cubs to Jets. Bill holds ATP, CFII, MEI, AGI, IFI certificates and is type rated in the BE200, BE300, BE300F, BE1900, BE2000, and CE500 aircraft.

Mr. Brunton was employed by Beech Aircraft Corporation as a pilot Instructor in the Beech Training Center from 1976 through 1986. He taught Beech customers in ground courses along with simulator and flight sessions. He authored many of the courses and developed the training materials used. He worked for Flight Safety International from 1986 to 1990 where he was Director of Standards along with duties as ground, Simulator and flight instructor. He has been an FAA Designated Examiner for Private through ATP and for the type ratings he holds.

Mr. Brunton was the Director of Aviation and Chief Pilot for a large corporation for several years. For the last 15 years Mr. Brunton has been a free lance pilot and instructor serving corporate and charter pilots for several different organizations'. Bill has flown for In Flight Review, Inc. since the year 2000 as an instructor, providing initial and recurrent training in piston and turboprop aircraft around the country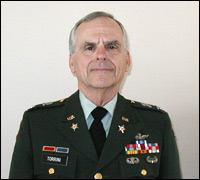 DONALD G. TORRINI
Flight Instructor

Mr. Torrini is a retired Army Aviator and retired FAA operation inspector.

He holds an ATP CFIISMEL and has logged over 12,000 flight hours. He also holds an A&P with IA. He has presented over 10,000 hours of classroom instruction on aircraft systems. His expertise is turboprop aircraft systems and operations. He has both corporate and FAR 135 experience. He is type rated in the SA227, CE-500 and Lear Jet.